We are hiring

a DevOps Engineer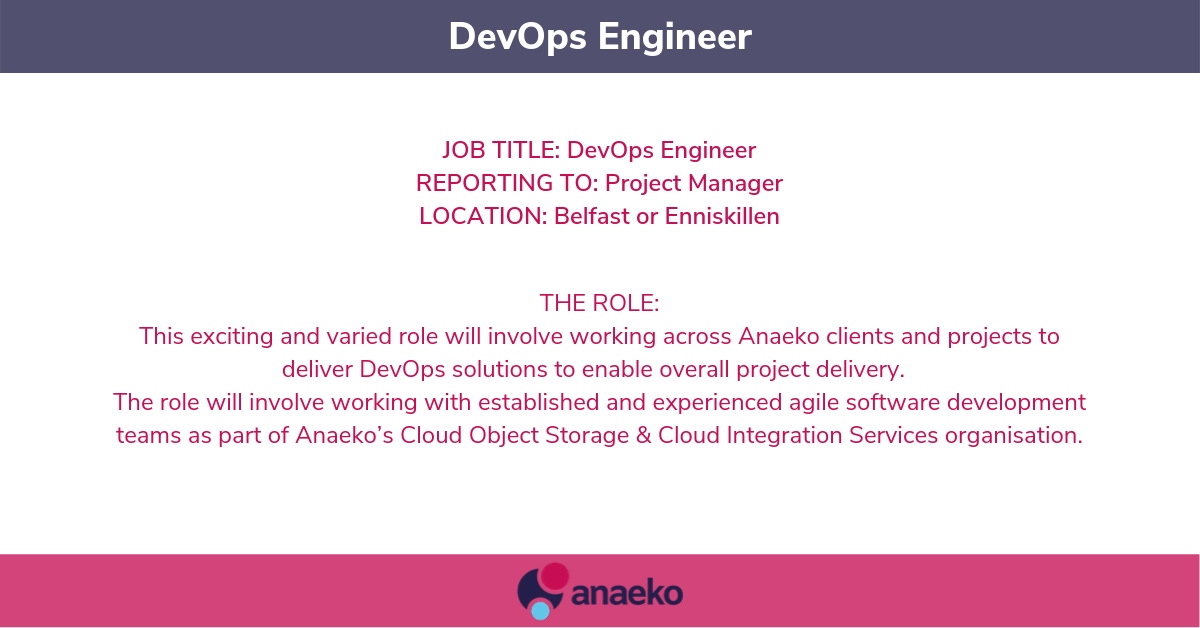 JOB TITLE: DevOps Engineer
REPORTING TO: Project Manager
LOCATION: Belfast or Enniskillen

WORKING AT ANAEKO:
Founded in 2004 by a team that pioneered innovations in mobile messaging, mobile internet and the Internet of Things, Anaeko is a leading intelligent multi-cloud analytics expert that emphasises quality, speed and innovation. For the past 15 years, Anaeko has innovated on behalf of global technology companies in the fields of mobile computing, social media, cloud computing, big data analytics and the Internet of Things (IoT).

Our clients rely on us to innovate on their behalf and solve their most complex technical challenges as part of their R&D efforts to build their products and solutions.

We bring decades of integration experience and a "can do" attitude to the increasingly changing cloud landscape. Located in Belfast and Enniskillen, we serve customers in the UK, Europe, Asia and the USA.

As the movement to the cloud continues to rapidly expands, we are experiencing unprecedented growth across three main competency disciplines: AWS, Azure and RedHat.

At Anaeko, we recognise that the world of work has changed and our people have different needs and expectations from their employment and their employer.

If you are someone who values:
Working with and learning from teams of experts

On-going development of new skills to tackle new challenges and meet customer expectations

The opportunity to build new competencies and gain certifications across our core disciplines – AWS, Azure, and RedHat

Working with big brand names on their R&D efforts

Working with leading edge Multi-Cloud technology

Variety in the technologies and projects you work on

Being part of multi-disciplinary teams working on multiple use cases

Regular rotation to develop new skills and work with new technologies

Being rewarded and promoted for your own personal contribution – rather than being time served or restricted by glass ceilings or quotas

Variety in career paths and choices

Being part of a stable and growing Company with low level attrition

A lean management structure with quick decision making and progress

Flexible working approaches

Opportunities to travel and work directly with customers

Opportunities to support the local tech ecosystem

A positive, fun and open Company culture
then Anaeko is the perfect fit for you!
THE ROLE:
This exciting and varied role will involve working across Anaeko clients and projects to deliver DevOps solutions to enable overall project delivery. The role will involve working with established and experienced agile software development teams as part of Anaeko's Cloud Object Storage & Cloud Integration Services organisation.
RESPONSIBILITIES:
Design and build secure cloud infrastructure
Design, build and maintain CI/CD systems using tools such as Jenkins and Azure DevOps Services
Work with agile development processes and take ownership on certain aspects of the CI/CD processes by putting appropriate methods and tools in place
Implement monitoring and recording systems
Implement microservices and containers
Troubleshoot configuration and environmental issues and provide working solutions
Act as the DevOps point of contacts for clients and project teams
Contribute to bid teams, requirements gathering and effort estimation as a DevOps subject matter expert.
ESSENTIAL CRITERIA:
Degree level education in a relevant discipline or equivalent experience

2 years experience in a DevOps role

or a developer role which included a significant element of DevOps activities

Experienced in at least one of the main cloud technologies

– AWS, Azure, GCP, IBM

Strong

working knowledge of

Linux and

/or

Windows

Proven experience of building

and

implement

ing

CI/CD

p

ipelines

including




experience with repos, build automation tools, build orchestration and environment automation E.g. Jenkins, GIT, CloudFormation, Chef, Ansible, Puppet, Azure Stack

Experience in implementing tools for logging, monitoring and alerting. E.g. TICK Stack, ELK Stack, Splunk, CloudWatch

, Nagios

Experience in creating and automating virtual machines in the cloud

An understanding or experience of high availability, business continuity and disaster recovery solutions in the cloud
DESIRABLE CRITERIA:
3+ years experience in a DevOps role

Experience in implementing microservices and containers

using, for example,

Kubernetes, Docker, OpenShift

Experience implementing other cloud infrastructure and networking required to host

service

s

, including storage, firewall and network configuration

Experience in deploying serverless functions e.g. AWS Lambda, GCP Cloud Functions, Azure Cloud Functions

Experience of engaging and working directly with customers
ANAEKO EMPLOYEE BENEFITS:
In addition to the quality and variety of work combined with on-going professional development, Anaeko offers its employees the following benefits:
Market Competitive Salary
Bonus Scheme
24 days holiday per year plus 10 statutory holidays
5% match contributory pension scheme
Private Medical Insurance
Life Assurance at 4 x salary
Childcare Vouchers
Free car parking
Flexible working models
Office locations in Belfast and Enniskillen
Regular social activities for all the team