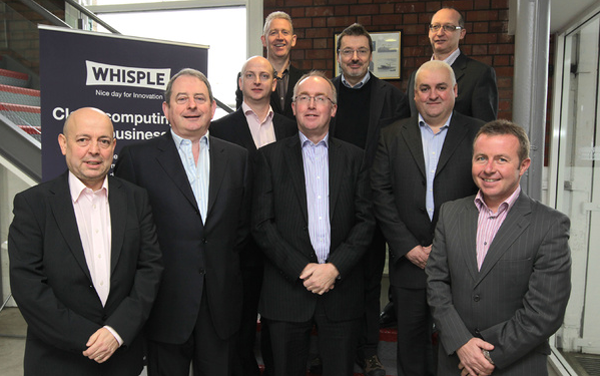 Pictured at the launch founding companies (L/R) Ken Thompson, Swarmteams, Denis Murphy, Anaeko, Nigel Farr, Equiniti ICS, Colm Hayden, Anaeko, Patrick McAliskey, Novosco, Paul Moorhead, Replify, Michael Clarke, Goldblatt McGuigan, Brendan Crossey, EMC and Dermot Walsh, Whisple Cloud Services.
A consortium of leading technology companies from across the province have joined forces and announced the formation and launch of Northern Ireland's first Cloud Services broker.Whisple Cloud Services has been formed to help local businesses realise the global potential and benefits Cloud Computing offers.
Founding companies Anaeko, Equiniti ICS, Goldblatt McGuigan, Novosco, Replify, FocusXP, Swarmteams and EMCalong with the support of Invest Northern Ireland, collaborated to create an organisation which will rapidly assist local companies prepare for and compete in the global market for Cloud Computing services.
At the launch Whisple Cloud Services revealed details on their Infrastructure Service and Business to Business App Store (B2B), the first of its kind in Northern Ireland which will open in January 2012.
Commenting on the launch, Whisple Cloud Services CEO, Dermot Walsh, says:
We recognised a very significant opportunity for Northern Irish companies to compete internationally in the Cloud Computing market. The ICT world is going through a period of significant transformation powered by Cloud Computing. Given this change, there has never been a better time for individual companies and smaller regions to compete with the best in the world.

Against this backdrop, a number of Northern Ireland's most successful individuals and companies formed Whisple Cloud Services to ensure that any and all local companies can compete in the Cloud Computing arena.

We have a relatively unique set of assets in Northern Ireland. Not only is our talent second to no other region, we also have a tremendous supporting eco system. Our region's small size is a massive benefit – we can quickly harness the power of entities such as NISP Connect, Halo and Venture Capitalists to ensure companies realise their full potential. Whisple is at the very heart of bringing these assets together for the benefit of all.

We have received significant international support and validation for Whisple's business model and the potential for the region as a whole. In particular, some of the world's leading IT companies have engaged to help drive the business forward and assist in our international sales and marketing activities.

Whisple Cloud Services is now open for business and looking for members who will play a major part in our global success. Whether you are an App, enterprise software or mobile App developer, digital media company, entrepreneur or any NI business with global ambitions, we can work with you to help you realise the potential of Cloud Computing.
Whisple Cloud Services is supported by Invest NI with part funding from the European Regional Development Fund.
Niall Casey, Invest NI's Director of Business Improvement Services, says:
Whisple Cloud Services is giving local companies the opportunity to capitalise on opportunities in the emerging Cloud market, which according to the latest Gartner report on cloud computing, will be worth $148.8 billion by 2014. The collaboration has made notable progress to date and I would encourage Northern Ireland companies to engage with Whisple and explore the benefits of this technology.
The infrastructure service provides locally owned and supported hosting on a par with the world's best. The App Store will allow organisations to showcase and sell their services to international markets at a low cost and from a Northern Ireland base. The App Store encompasses the very latest internet sales and marketing technologies and is designed to quickly join up sellers and buyers of Cloud Services alike.

For more information on Whisple Cloud Services visit www.whisplecloudservices.com
Topics: Northern Ireland, Cloud, Whisple Cloud Services, Anaeko, Belfast, News