Have you recently graduated in a computer science or mathematics related degree? Anaeko has partnered with Foot In The Door to offer graduates a chance to have a program working with cloud computing technologies at Anaeko.
Anaeko is an IT Service Management (ITSM) software company with a focus on solving the service management challenges as organizations move to the cloud. The company delivers tailored software products and solutions that help these organizations monitor and manage large IT environments, particularly hybrid environments that combine on-premise, private cloud and public cloud resources.
What we offer:
Career Development
The project is of 12 months duration and offers an ideal opportunity for you to develop skills in
Working alone and as part of a team.
Delivering quality deliverable against challenging timelines
Complete software development lifecycle experience
A knowledge of SaaS technology and business model;
A detailed knowledge of the Cloud ecosystem
Post Graduate Diploma In Management
You will be expected to attend a management training course, designed specifically for FUSION Graduates and delivered by Smurfit Graduate School of Business in UCD. Its aims are to enhance your personal, professional and managerial capabilities so that you can complete your FUSION project successfully and to equip you with the necessary skills to take up future leadership roles in business. The course consists of a series of five, two-day theoretical workshops; however, a substantial part of the qualification will be work based. On successful completion of the training, you will obtain a Post Graduate Diploma in Management which will be accredited by UCD.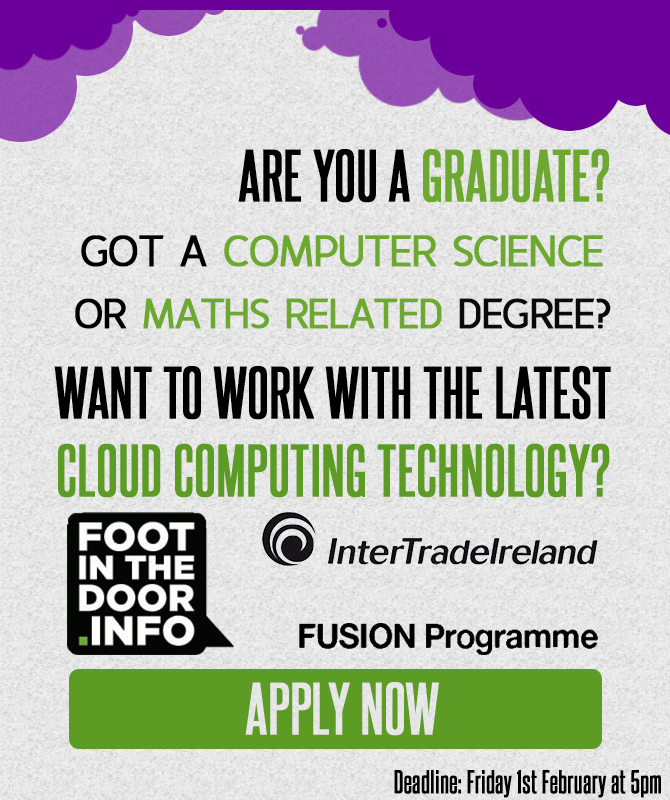 Do you have?
Candidate Skills:
To be eligible to apply, you must have the following:
Minimum 2.1 Degree or higher in Computer Science or a Maths related discipline.
Software Development experience, (preferably Java in a Linux environment).
Excellent communication skills
Fluent written and spoken English
To be considered for this position you must be eligible to work in Northern Ireland.
To have an increased chance of getting the placement, the following are desired in a candidate:
Postgraduate qualification in Computer Science or Computational Science
A solid understanding of Cloud Computing
Statistical Analysis background
Understanding of Finance
Personal Skills:
Problem solving skills
Working with information
Ability to work as part of a team
Interpersonal skills
Ability to communicate effectively with people both orally and in writing
Ability to self motivate

Topics: News