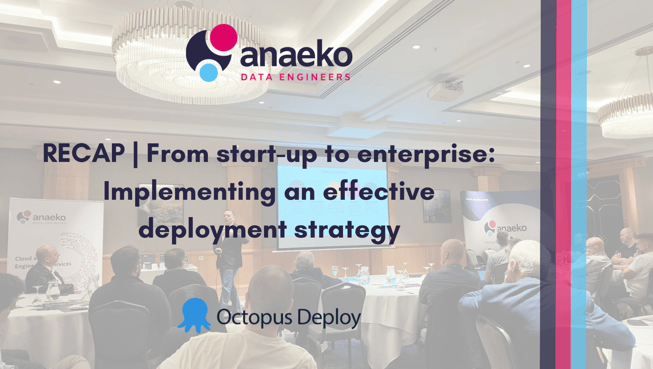 Last Wednesday Anaeko Data Engineers and our newest technology partner Octopus Deploy held an event in the iconic Hilton Hotel in Belfast, exploring the challenges from start-up to enterprise when implementing an effective deployment strategy. The event brought together many from the growing DevOps community across Ireland, with some executive team members and senior engineers also in the audience.
The event's keynote speaker was Michéle Johl, IT Engineering Manager at Unily. Michéle explored how Unily went from a start-up solution to an enterprise-level SaaS platform using Octopus to deploy their platform for clients, with lessons learnt. He also looked into how the operations team at Unily took challenges and turned them into opportunities like automation of deployments and self-service solutions using Octopus. This thought provoking keynote was followed by a short interactive demonstration of the benefits to the user that Octopus have provided.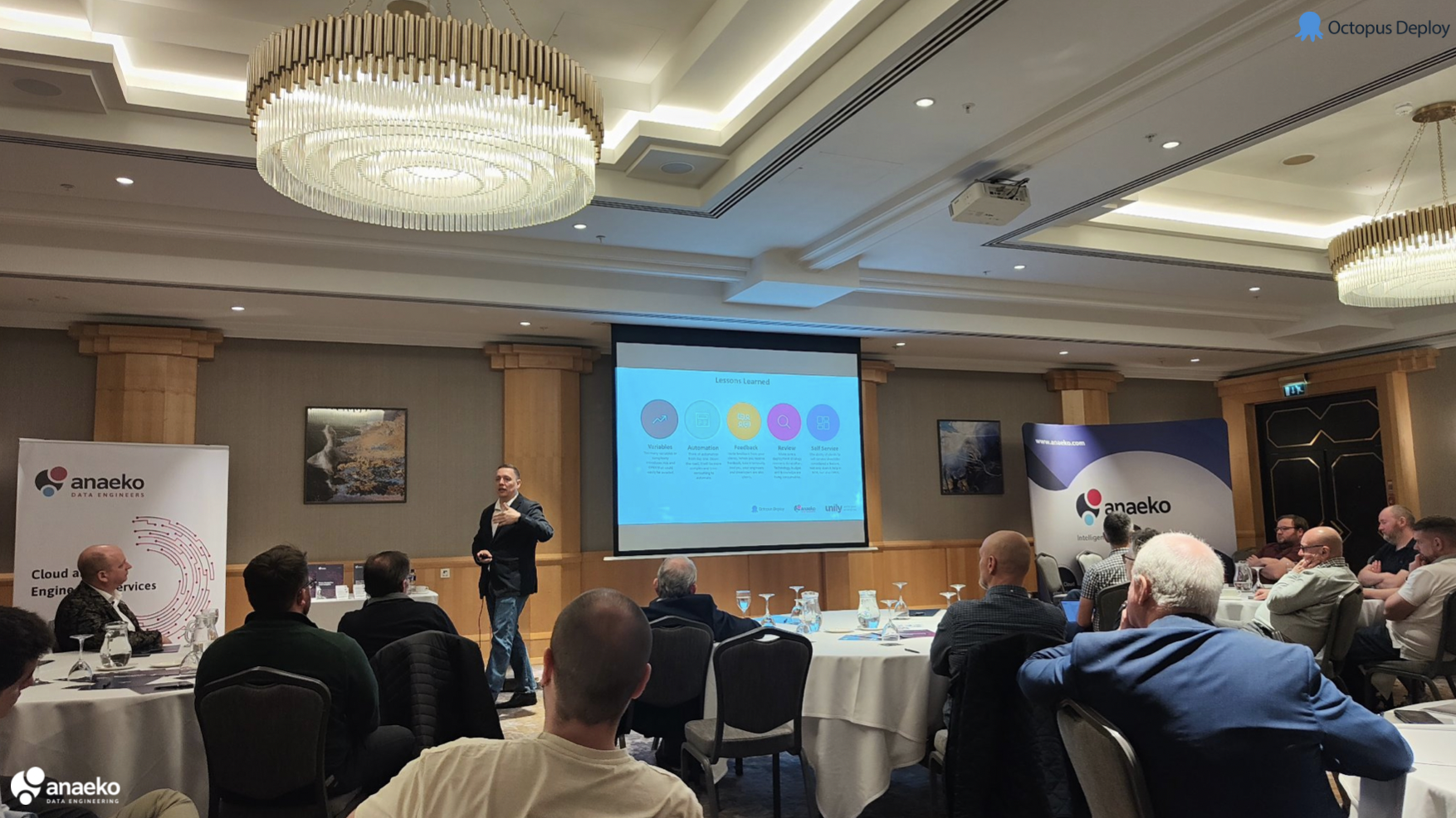 After a short break, the keynote address was followed by a fireside panel, comprising of industry experts including Mike Nguyen (Director of Solutions Engineering, Octopus Deploy), Glenn Russell (Principal Engineer, Qarik Group), Chris Lavery (Senior Site Reliability Engineer, WeaveWorks) and Anaeko's own CTO Colm Hayden. Michéle also rejoined the panel to continue discussions raised after his earlier presentation.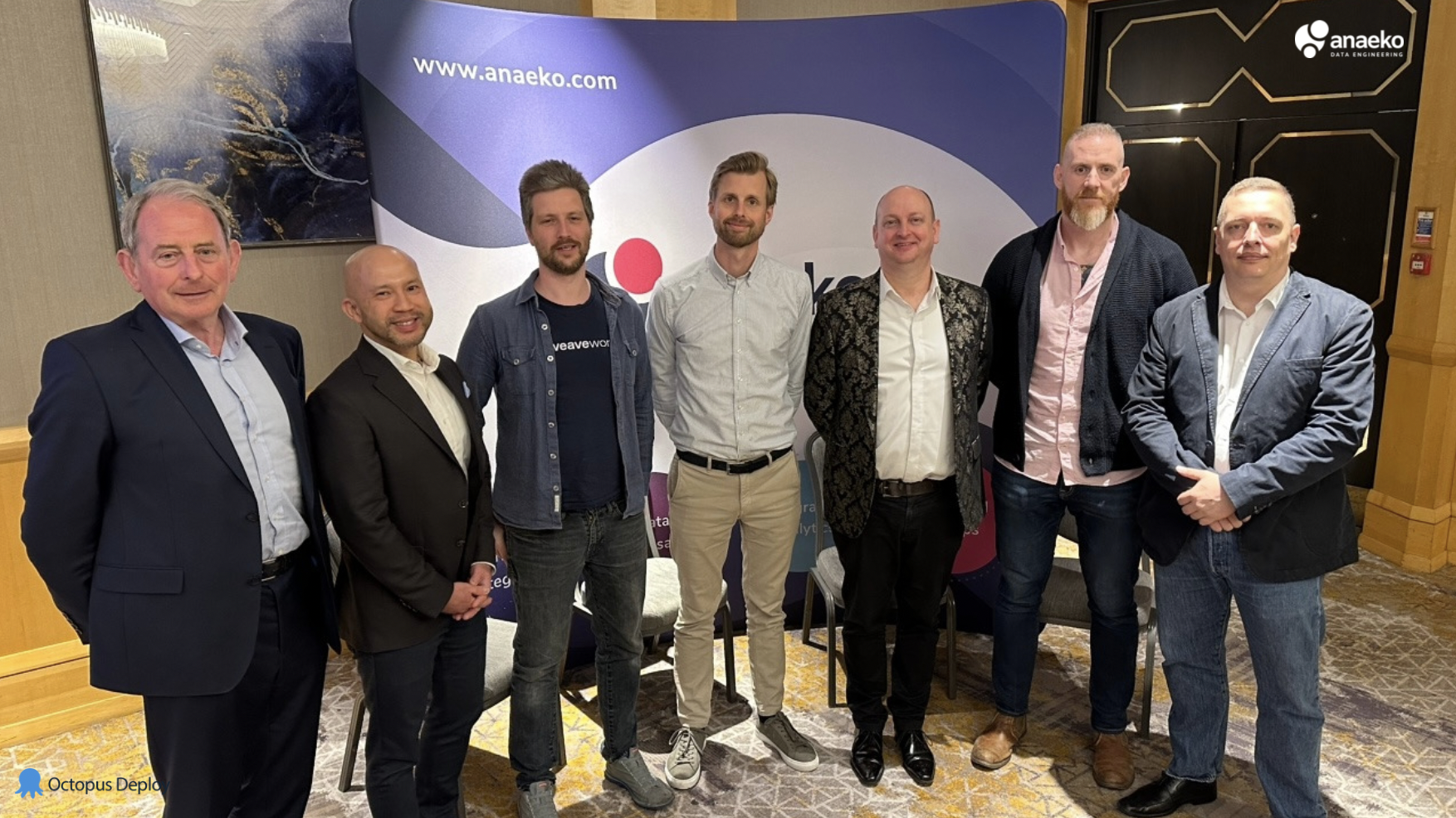 Want to learn more about Michéle's presentation and what was discussed on the day? Follow the link below and gain exclusive access to his event keynote.
Introducing our newest technology partner Octopus Deploy
Octopus Deploy is a software release management and deployment automation platform that provides a range of services to help organisations streamline their application deployment processes. It's key benefits are as follows;
Release Management: Octopus Deploy facilitates the efficient management of software releases by providing a centralised platform to plan, schedule, and execute deployments. It offers version control integration, release notes management, and release pipeline visualisation, ensuring a controlled and auditable release process.
Deployment Automation: With Octopus Deploy, organisations can automate their deployment processes, reducing manual errors and saving time. It supports a wide range of deployment targets, including cloud platforms, virtual machines, containers, and on-premises servers. This flexibility enables seamless deployments across diverse infrastructure environments.
Configuration Management: Octopus Deploy allows for the easy configuration of application settings and environment-specific variables. It provides robust configuration management capabilities, enabling dynamic configuration changes during deployment, without the need for code modifications or recompilation.
Multi-Environment Support: Octopus Deploy supports multi-environment deployments, allowing organisations to deploy applications to various development, testing, staging, and production environments. It provides fine-grained control over deployments, ensuring consistency and reducing the risk of configuration drift.
Security and Compliance: Octopus Deploy emphasises security and compliance by offering features like role-based access control, sensitive variable encryption, and integration with external authentication providers. It helps organisations adhere to security best practices and regulatory requirements.
Integration and Extensibility: Octopus Deploy integrates with popular DevOps and automation tools, such as Jenkins, Azure DevOps, and TeamCity. It also offers a powerful REST API and extensibility through custom scripts and extensions, enabling seamless integration into existing toolchains and workflows.
The benefits of Octopus Deploy include improved release management efficiency, reduced deployment errors, increased deployment frequency, enhanced team collaboration, faster time to market, and greater overall reliability of software deployments. By leveraging Octopus Deploy's services, organisations can achieve smoother and more reliable software releases while promoting DevOps best practices.
Want to learn more? Schedule a free workshop and see how Anaeko can help your business implement an effective deployment strategy with Octopus Deploy.