Anaeko has been delivering insights in the field of transport analytics, focusing on the journey from data discovery to valuable insights that reduce risk.
Anaeko is a data engineering company that helps find, prepare, analyse, and share data. We achieve this through consulting, collaborating with specialists, and working with various organisations to enhance their data and platform capabilities. We offer solutions such as data platforms and provide teams of engineers who collaborate with our customers and partners. In this way, we assist in building, scaling, and operating data and analytics platforms. Our company comprises of approximately 70 people, and our vision is centred around collaboration and sustainability, particularly concerning the climate emergency. Sustainability is a critical focus for all our customers and partners in the transport sector.
When it comes to handling data in the context of the transport industry, amidst all the buzz about generative AI and machine learning, it is essential to handle data sensitively and ethically, which is precisely what we do.
Our work isn't confined to the transport sector, but we have a history of working with Translink, the Northern Irish bus and rail operator. We offer a range of data and analytic services, from real-time operational and engineering data to tracking key performance indicators and long-term planning. We've also worked with non-traditional transport companies like Northern Ireland Water to provide fleet reporting solutions, helping them transition to electric vehicles. Our services encompass analysing the vehicle lifecycle, repair costs, fuel expenses, and the optimal time to shift to an electric fleet. Additionally, we collaborate with telematics companies to perform deep-dive analytics on thousands of connected vehicles, including those in the driverless vehicle industry. This involves processing vast amounts of camera and sensor data effectively. We also have partnerships with organisations across the UK and Ireland, such as National Highways and Network Rail, in unifying data processes.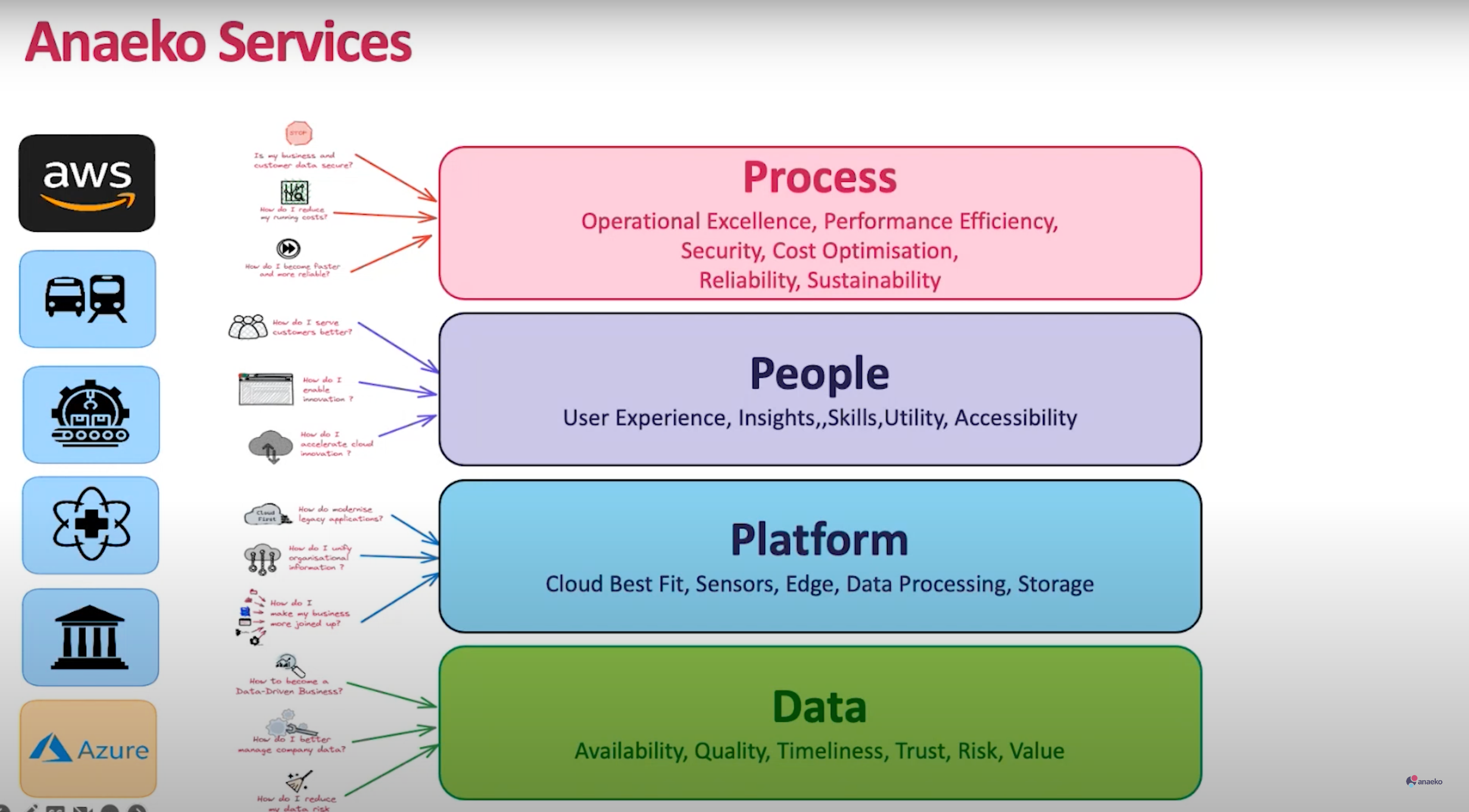 Anaeko Services and Collaboration
Our services span several areas, with a focus on collaborating with major cloud providers like Amazon Web Services and Microsoft Azure. We operate in various sectors, including transport and logistics, manufacturing, healthcare, and government. Our fundamental goal is to improve operational excellence, which involves measuring processes, ensuring efficiency and security, and addressing rising costs. Cost optimisation is critical, given the increasing expenses in all aspects of business. Sustainability is at the forefront of our discussions, and reliability is a paramount concern.
We emphasise process improvement and user-centricity, conducting user research to understand the needs of end customers, staff, and passengers. Data literacy is increasingly important, and we collaborate with subject matter experts to enhance the availability and usability of tools. We also focus on building, migrating, and transforming platforms, what we call "Cloud best fit." This involves a combination of vehicle sensors, edge data processing and storage, and bringing together various suppliers to ensure data availability, quality, timeliness, and trustworthiness. We aim to manage risks and extract value from data.
The key questions we seek to answer are related to data security, cost reduction, business speed, reliability, and competitive differentiation. We place a strong emphasis on a customer-first and customer-centric approach, looking for ways to serve customers better, enable innovation, and accelerate industry modernisation. Many industries, including transportation, are continually evolving and integrating rich historic data with new sensor and telemetry information, which we help unify for data-driven decision-making.
In terms of data management, we prioritise security and governance to mitigate the ever-present threat of cybersecurity breaches. This is crucial, especially as the volume of sensitive information continues to grow.
Anaeko Data Discovery
At Anaeko, we offer a data discovery service, which involves a meticulous review of an organisation's data. We deliver this service incrementally and in a prioritised manner. The main objective is to uncover valuable insights within the data and determine how these discoveries can be put into practical use. To achieve this, it's crucial to have platforms that can gather data from various sources and create an ecosystem for generating, capturing, and consuming this information while applying governance.
Our approach to this service is comprehensive. We begin by assessing the data landscape, which typically includes key line-of-business systems where the most trusted data resides. There is often a multitude of systems integrated into the business fabric. Additionally, there's what we term "dark data," which consists of unstructured information found in files, documents, shared drives, or even on individuals' laptops. While this data can be valuable, it also presents security risks, so understanding what's there and implementing proper governance and control is essential.
We delve deep into each core business area, spanning multiple systems and sources. This involves ensuring that both your information suppliers and internal stakeholders speak the same language and interpret core business data consistently.
In our data discovery process, we focus on the business value of the data. Can you trust the information? Is it of high quality and relevance? Keeping irrelevant data can result in unnecessary costs and potential risks. Timeliness and completeness are also crucial, and this often requires extensive data integration efforts. Security is paramount, including access control and data classification, which can be challenging to manage when dealing with vast amounts of information.
As we broaden the accessibility of this data from a select group of specialists to a wider audience, we must ensure the resilience of the platforms. This means implementing monitoring, backup systems, and restoration processes to guarantee data availability, even in the event of unexpected issues or outages.


Data Challenges and Insights in Transport Industry
In the transport industry, several key challenges persist, affecting both the sector itself and the endeavour to extract value from it. Notably, rising fuel costs have been a significant concern. The global fuel energy price index increased sixfold between the summer of 2020 and 2022, a trend our speakers are likely well-acquainted with. This surge has been driven by a global energy supply shortage and geopolitical factors, including the Russian-Ukraine conflict.
Labour shortages, particularly in terms of drivers, have also posed challenges. Meeting sustainability, climate, and emissions targets is a priority. These metrics require measurement, and data for this often comes from a variety of third-party supplier systems, including telemetric, vehicle tracking, and logistics data. This complexity demands specialised knowledge and data skills to integrate these diverse data sources.
The increased use of sensors, including video data, is invaluable for ensuring passenger safety and product quality in the transportation industry. Modern vehicles are equipped with hundreds of sensors that produce vast amounts of data, which must be processed efficiently due to associated costs.
In our extensive experience working with various transport and logistics companies, we've observed that each of them has well-defined strategic goals. However, they often face challenges in determining the tactical steps to achieve these objectives. It's this focus on the tactical aspect that we wish to highlight today.
Within the industry, data sources are diverse, including service and repair data, tracking platforms, internal asset registers, departments, geographic locations, fuel supplier information, accident and incident reports, budgeting models, and project projections. Ultimately, for any transport and logistics company, achieving a unified view of this complex data landscape is essential to understanding its implications and navigating these challenges effectively.
Anaeko Use Case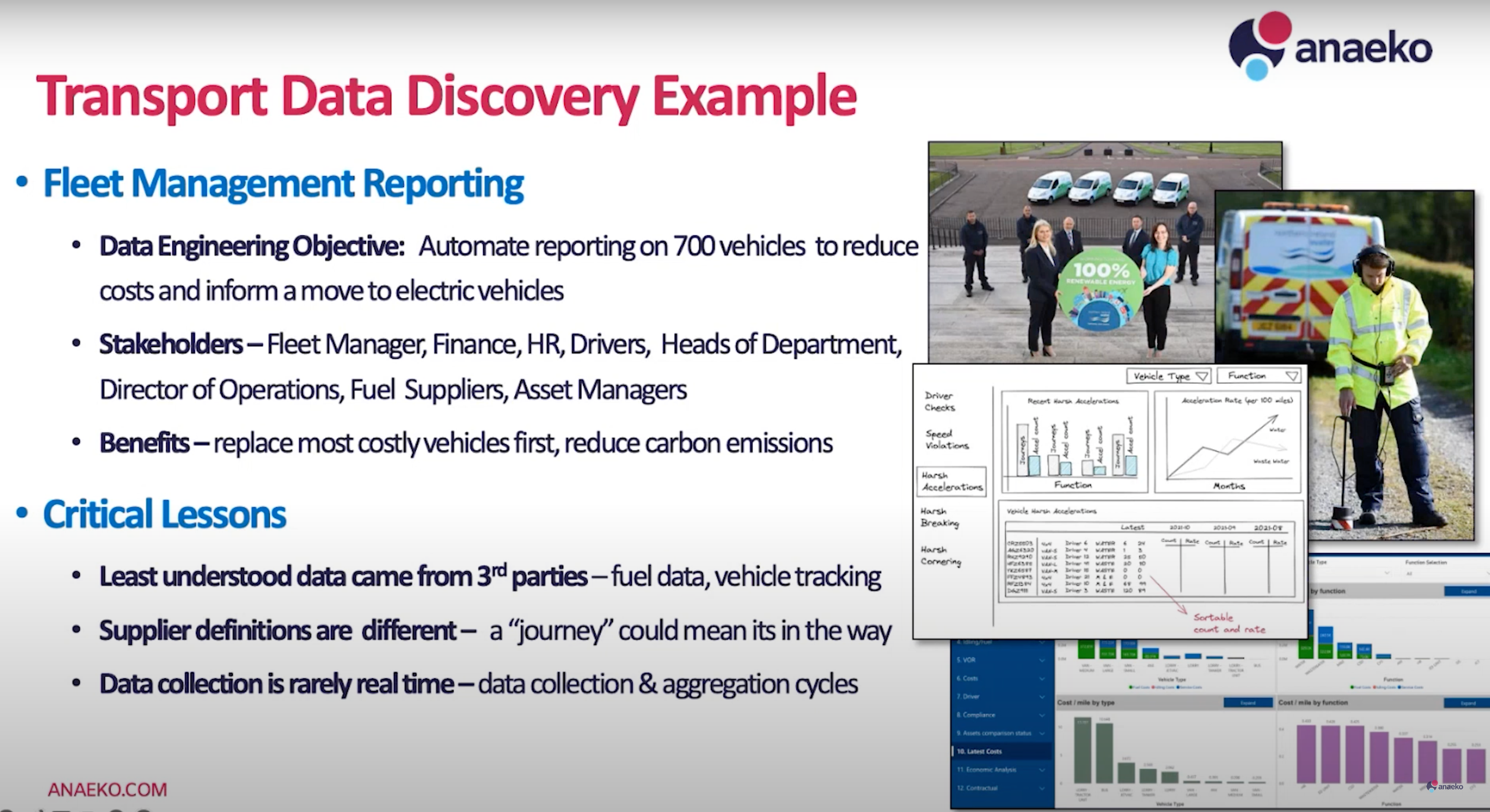 One use case is Northern Ireland Water, an organisation with various stakeholders, including fleet managers, finance, HR, drivers, department heads, fuel suppliers, and asset managers. Each of these stakeholders had different perspectives and requirements. With the goal to facilitate the transition to electric vehicles for a fleet of 700 vehicles.
The specific objectives were to measure and monitor carbon emissions, identify the most costly vehicles in terms of maintenance, and create a shortlist of vehicles suitable for replacement with electric vehicles. One significant challenge encountered was that third-party systems defined elements like a journey in different ways, which necessitated efforts to ensure consistent data collection and measurement across these various cycles.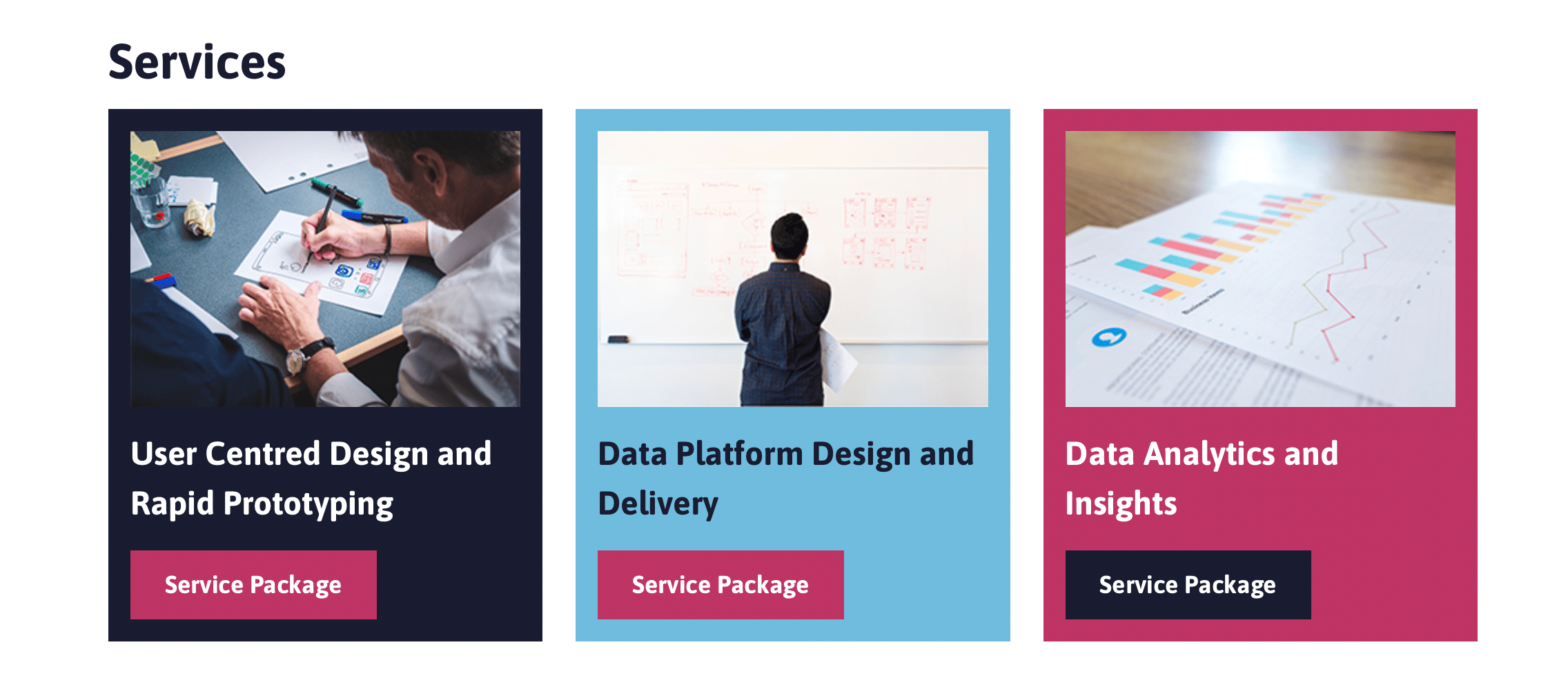 Topics: Data Analytics, data discovery, Digital Transformation, Data, transport, sustainability