Nolan Transport Group is a family-owned business that has been operating since 1963. Currently, we employ over a thousand people and manage 2,700 freight units. This means we have a significant number of employees and a vast fleet of vehicles, resulting in a complex operation with many moving parts. All these moving parts generate valuable data that plays a crucial role in guiding our business decisions, both in the present and for the future.
Like many others in our industry, we've also made investments in several alternative fuel sources. These include hydrogen cells, fuel additives, and even exploring options like solar power to provide energy for our trailers and more. However, in my view, the most significant fuel driving our business towards a sustainable future is the data we gather and how effectively we put that data to use.
While scientists and regulators are continually introducing new fuel types and alternative technologies, these will take time to become widespread and widely adopted. What we can control right now is the data we generate and how we leverage it. That's our primary focus and what we're committed to doing.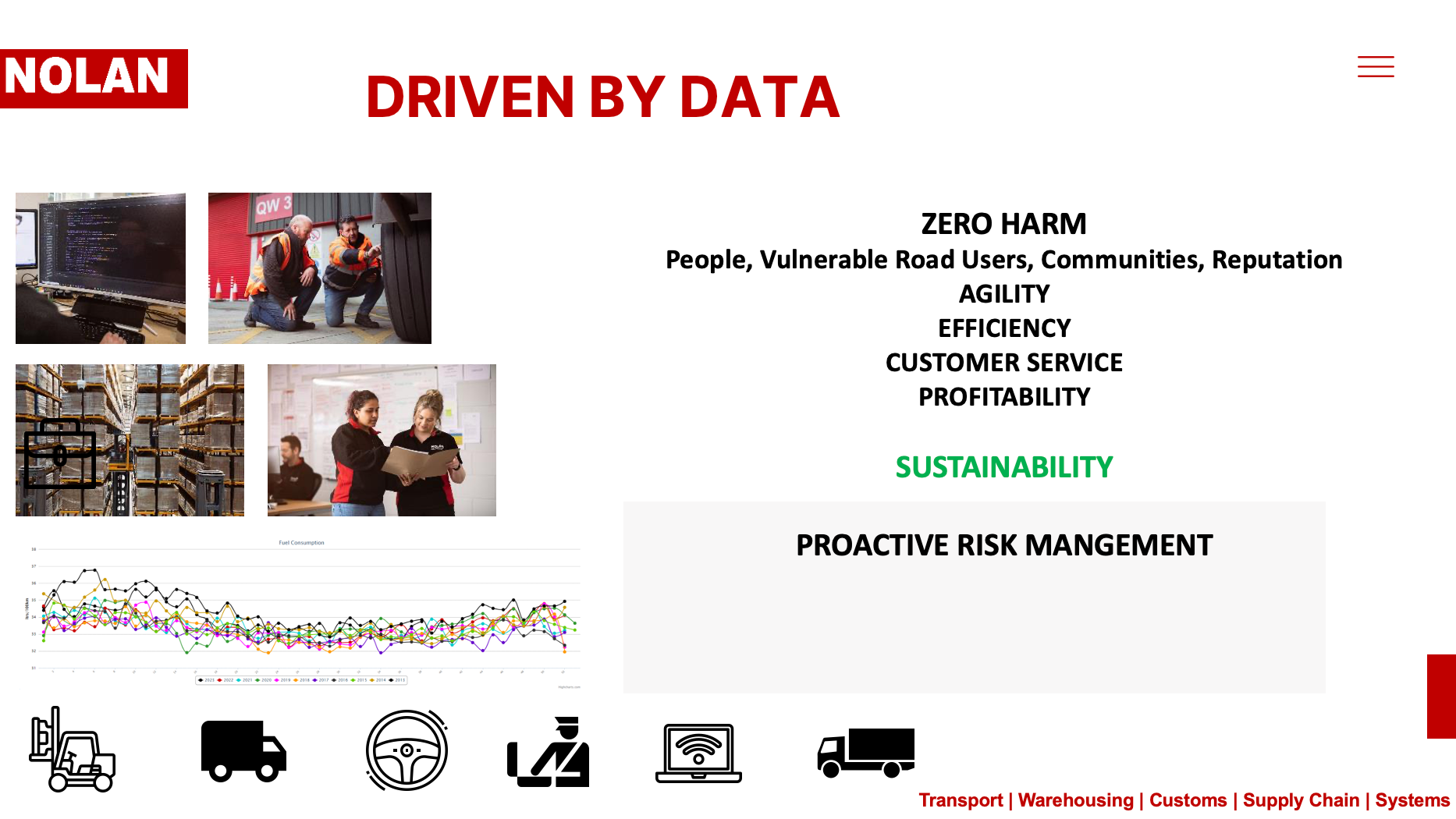 Zero Harm
Our ultimate goal, both for me personally and for our group, is to achieve zero harm. When we talk about zero harm, we mean ensuring the safety of all individuals involved, including our own employees and the people we interact with. This particularly applies to vulnerable road users like cyclists and pedestrians, the communities in which we operate, and it's also vital for safeguarding our reputation and the quality of service we offer to our customers.
The use of data enables us to be highly adaptable. We can quickly allocate our resources, plan various routes, and meet the needs of different customers and opportunities. Efficiency is another key objective for us. We aim to run our fleet and business as smoothly as possible, focusing on customer service, profitability, and sustainability.
As I mentioned earlier, harnessing the data at our disposal has led to significant reductions in emissions, a more cost-effective use of our resources, and a more substantial impact in the areas where we operate. Additionally, we see data as a proactive risk management tool. By delving into our data and applying it strategically, we have gained better control over risks. This has translated into measurable improvements in accident and near-miss statistics, ultimately reducing our insurance costs.
Labour Shortage
In our industry, the shortage of labour is a pressing issue. It's crucial for us to not only attract drivers but also retain them and ensure they perform at their best. To address this, we collaborated with the IRU based in Geneva, Switzerland, to develop a system called "RoadMasters." This system serves as a comprehensive method for assessing driver competence. We evaluate drivers across more than 250 dimensions, encompassing both their knowledge and skills.
The nature of our industry and the diverse cohort of drivers led us to translate this system into four languages. RoadMasters not only helps us accumulate a substantial amount of valuable data but also provides us with instant feedback, which we can deliver to the drivers right after their assessments.
This data generated through RoadMasters is then meticulously analysed based on various factors such as business unit, geography, experience, knowledge scores, and skill scores. This analysis enables us to develop highly targeted communication and training programs. No longer do we rely on a one-size-fits-all approach.
RoadMasters highlights instances where a driver's knowledge may not match their claimed experience. In the past, we've hired drivers with seemingly impressive experience, only to discover they lack vital skills. Now, we thoroughly assess their capabilities and experiences, allowing us to allocate resources more effectively. For example, we assign drivers with strong physical skills to handle complex load securing, and those with technological aptitude to handle loads that require more technology interaction. This ensures a smoother operation, increased customer satisfaction, and enhanced efficiency.
Furthermore, RoadMasters offers an ongoing assessment throughout a driver's career with the company, enabling us to identify and meet their specific training needs. This personalised approach has yielded significant, measurable, and consistent improvements in driver performance. Road Masters is one of the essential tools we utilise to address the challenges in our industry and drive continuous improvement.
Performance Data
Transport companies, including ours, receive a plethora of performance data. This data often comes from various telematic systems, these systems generally provide similar information. However, the data is of limited use without proper analysis and interrogation.
For example, let's say we have ten drivers with outstanding performance scores and another ten with slightly lower scores. The key distinction is that the first group might be hauling 26 pallets of tissue up a highway, while the second group is transporting steel to the Welsh valleys. Despite having equally skilled drivers, the outcomes are vastly different. This prompts us to consider various factors like marketing, sales, and resource allocation. We need to determine the most efficient, productive, and ultimately profitable routes for different tasks, and decide which drivers are best suited for those specific assignments.
Telemetry data, although invaluable, must be examined and analysed to be truly useful. Elements such as over-speeding, harsh braking, and other indicators can signal potential accidents in the future. However, you can't evaluate these in isolation. We need to consider the roads being driven, the types of loads being transported, weather conditions, and more. Therefore, we invest substantial time and effort in conducting a deep dive into this performance data.
This approach has yielded significant improvements in our accident and near-miss statistics, as well as a reduction in fuel usage across the company. In essence, data is only as valuable as the insights we can derive from it, and our careful interrogation of this data has proven its immense worth to our operations.
Organisation Data
In our organisation, we closely monitor the utilisation of our resources, including both human and mechanical assets. This data is thoroughly analysed and segmented into various datasets. We break it down geographically, such as within Ireland, the UK, or other EU countries, and further into specific business units. By keeping a close eye on utilisation, we swiftly identify the most effective ways to use our resources. This agility enables us to allocate resources to different areas promptly, aiding in well-informed routing and planning.
This utilisation data equips our planners with the essential information needed for resource allocation. It also provides valuable insights for our sales and marketing teams, helping them pinpoint where our resources are optimally utilised, identify any gaps that require attention, and eliminate areas of waste. This approach ultimately fosters efficiency within our organisation, and we strive to maintain utilisation figures as close to their maximum potential as possible. This, in turn, leads to a more productive, efficient, and ultimately profitable business.
The flexibility it offers allows us to respond rapidly to market shifts, giving us a competitive edge over some of our rivals. Using our fleet as efficiently as possible plays a pivotal role in our pursuit of sustainability goals.
Tachograph Analysis
We place great importance on tachograph analysis to ensure compliance with regulations and safety standards. Our tachograph analysis covers various aspects, including driving hours, truck rolling hours, driver brakes, rest periods, over-speeding, working time, ferry crossings, driver infringements, and more.
Thoroughly reviewing tachograph data enables us to intervene more promptly and make informed decisions. This data helps us create targeted and focused training and retraining programs, rather than adopting a one-size-fits-all approach. Additionally, it assists our planners by providing insights into driver available hours and upcoming rest periods. This information allows us to plan resources effectively, ensuring that a driver isn't suddenly required to take a 9-hour break halfway through a job. This proactive approach helps maintain a smooth transport flow from start to finish.
Tachograph data can help identify drivers who may not fully comprehend the requirements for breaks, those who exceed speed limits, or those who use harsh braking techniques. This data allows us to intervene promptly, resulting in better control and measurable improvements in accident and incident statistics. These improvements also extend to our costings and fuel consumption, making our operations safer, more efficient, and cost-effective.
Joined systems
All the systems we employ, including our Telemetry and RoadMasters, are designed to seamlessly integrate with our in-house Nolan system. We have the advantage of having an internal team of dedicated IT specialists and programmers who ensure a smooth data flow. Each system we've adopted has undergone rigorous testing and alignment with our requirements to be compatible with our central transport planning system, which is the core of our operation.
This approach not only provides us with control and data security but also allows various data sources to converge into one coherent stream. To further enhance our data management, we've brought onboard dedicated data analyst specialists. These experts are responsible for collecting, analysing, and presenting the data to me and other senior management team members. This data is carefully curated to be useful, targeted, and effective.
Having this capability undeniably gives us an advantage in utilising data smartly and effectively. It is instrumental in our pursuit of achieving our goals of zero harm and sustainability, both in the short term, medium term, and the long term. Our methodical and proactive use of data is a crucial driver for the future of our company, and we witness its positive impact daily as we work towards our objectives in the years to come.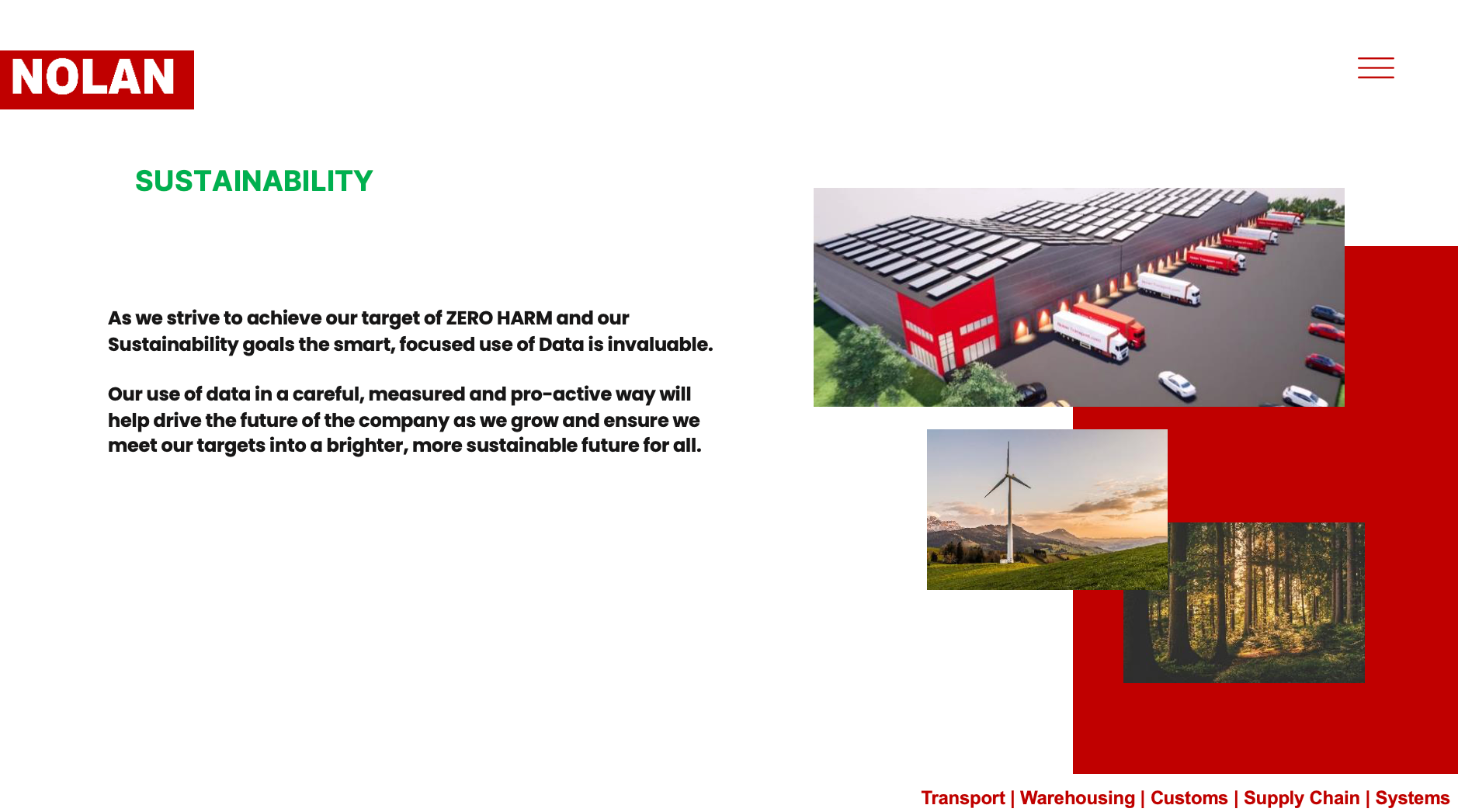 Conclusion
In conclusion, understanding the strengths and weaknesses of our drivers, fleet, salesforce, and all other supporting elements of our business is pivotal. By aligning our activities to address these needs and rectify the identified weaknesses, we become a significantly more efficient, productive, and ultimately profitable and sustainable business.
About Anaeko
Anaeko is a data engineering company. We have been in operation since 2004, delivering over 500 cloud and data projects in the areas of data and Cloud Consulting. This involves advising and providing solutions, and teams, where we offer specialised data engineering skills to support in-house or multi-supplier delivery.
Our primary focus is to help our customers and partners build and operate data analytics platforms. We pride ourselves on being a highly collaborative company, aiming to be the go-to collaboration partner for building and managing these platforms, including data pipelines.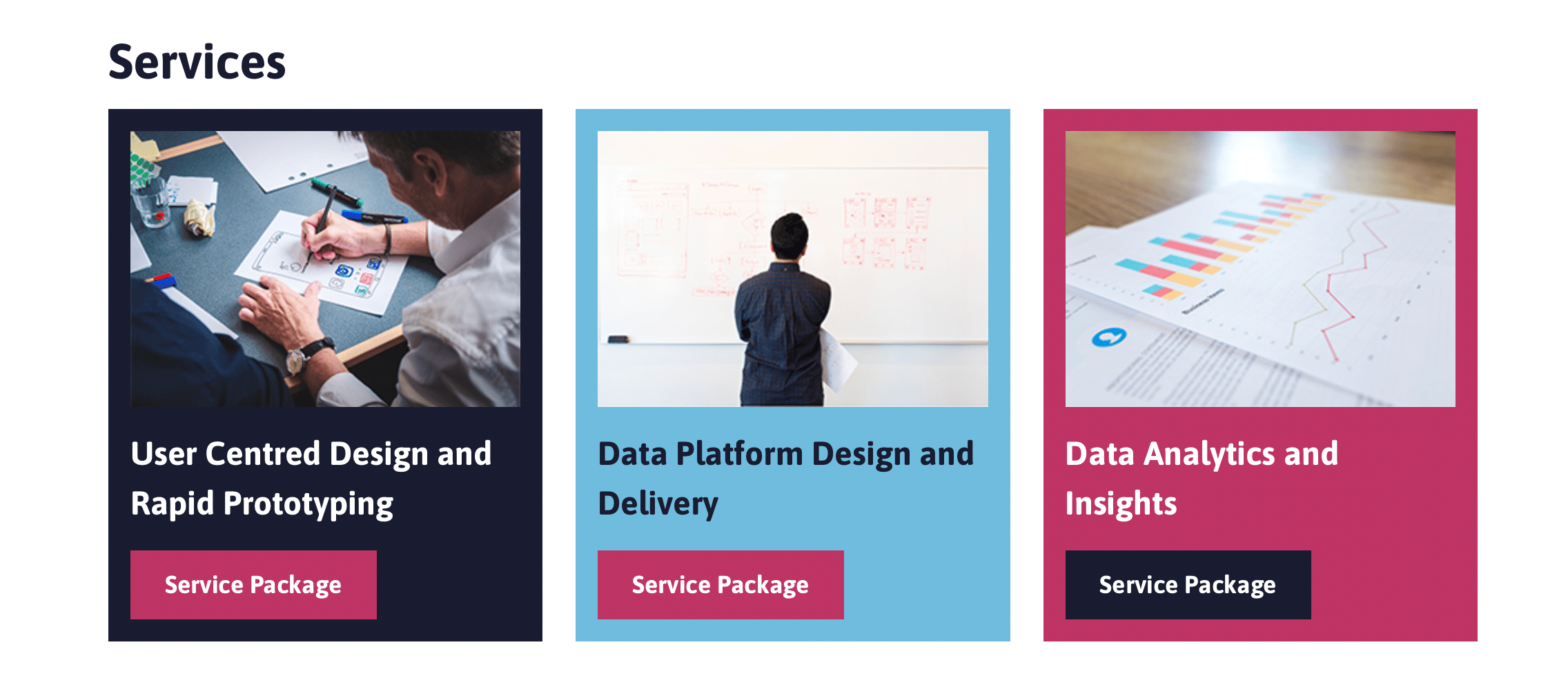 Topics: Open Data, data discovery, Environment, Digital Transformation, data sharing, transport, sustainability