Varsha Modake has worked in the tech industry for over a decade, taking on various roles within her career from team lead to software engineer. With an array of international experience under her belt and credits on a number of large scale projects, we want to learn more about Varsha and her journey too Anaeko.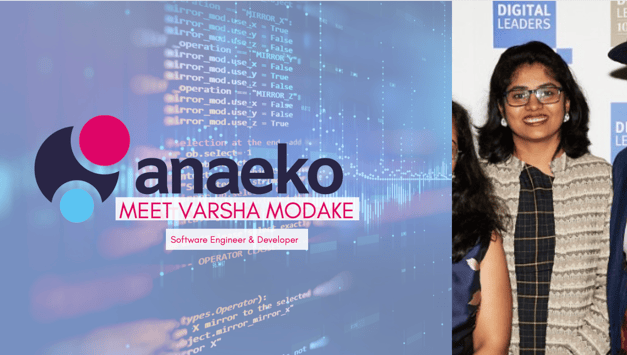 What is a Software Engineer
As a Software Engineer at Anaeko, you will work on projects where you can make a real difference to people's lives and help develop solutions on a global scale. You will work in a constantly evolving environment, due to technological advances and the strategic direction of the organisation you work for. You'll create, maintain, audit and improve systems to meet particular needs, often as advised by a systems analyst or architect, testing both hard and software systems to diagnose and resolve system faults.
You receive great support and mentoring, balanced with the experience of being given real, meaningful work to do, to help you truly develop both technically and professionally. You will learn from other experienced developers, project managers and customer-facing staff.
You will be responsible for:
Developing high quality solutions which impact the lives of users worldwide.


Working as part of a team to solve problems and produce innovative software solutions.


Learning about new technologies and approaches, with talented colleagues who will help you learn, develop and grow.


Developing excellent technical, team-working and Agile project experience.


Contributing to peer reviews of designs, code and test specifications


Continuous innovation and improvement
Software Engineer Skills
Communication Skills
It's extremely rare that Software Engineers work in isolation. In fact, what separates Software Engineers from similar roles like Software Developers tends to be the amount of high-level collaboration, leadership, and team building required of a Software Engineer – and communication skills are key to all of that. Software Engineers should be able to clearly communicate – in writing and orally – with virtually any type of team or company stakeholder, regardless of that person's technical background.
Team Player
Software Engineers typically work as part of a team – or leading one – and creating or maintaining great software programs requires the input and expertise of a great number of people. Success or failure will be shared by that team. Successful Software Engineers must understand how to compromise, how to motivate others to deliver the best work they're capable of, and how to take and learn from criticism.
Problem Solving
Successfully steering software development projects to completion requires quickly identifying and solving a lot of issues along the way. Software Engineers must be curious and creative problem-solvers, able to sift through code to pinpoint a programming error while also anticipating other issues before they arise and adapting quickly to solve them.
Attention to Detail
Software Engineers are expected to be precise and meticulous, with a high level of attention to detail applied to everything from coding to testing to documenting projects. Some software engineering industry best practices – like using version control systems to keep track of old work – fall into this category of soft skills.
VARSHA MODAKE ON WORKING AT ANAEKO
TIM : Hi Varsha, do you want to introduce yourself, and your position within Anaeko?
VARSHA : My name is Varsha Modake, and I am a Software Engineer at Anaeko
TIM : How would you summarise what you do at Anaeko?
VARSHA : My current role at Anaeko is Software Engineer/full stack developer, this is a big role that involves working on front end, back end and database development. As a software developer you need to be up-to-date with technology, because in the current era platforms and tools are constantly evolving and you don't want to be left behind.
As a Software Engineer, myself and my team must understand the customers requirements and develop a web or app with the help of front end and back end technologies. After implementation it goes through several rounds of testing and after that we present it to the customer and use any feedback to make adjustments to the final product. We repeat this process many times during a project.
TIM : And how long have you worked at Anaeko?
VARSHA : I joined Anaeko in March of this year, Anaeko gave me an opportunity to work in a UK environment. I had started my career in India as this was where I grew up, so this opportunity has allowed me to diversify. I had taken a two year career break after the birth of my first child and Anaeko gave me the opportunity to start my career again.
TIM : What makes you want to stay at Anaeko and what do you enjoy?
VARSHA : Anaeko gives me the chance to work with various new technologies, and as I said earlier being up-to-date with the latest technology is very import as a software engineer. Anaeko has given me the oppurtunity to work on so many different projects, and I love the variety that it gives me on a weekly basis.
TIM : What does your average day look like?
VARSHA : I usually start with looking at my calendar and then plan my work and day accordingly. We work in an Agile Model and on a weekly basis. So after checking my calendar I usually check my JIRA board and see what work has to be done for that day. A typical day starts with looking at new feature developments or working on a new requirement that's come in. A lot of my day is taken up with extensive research and exploring various developments to ensure that they're feasible.
TIM : Tell us about a recent project you worked on or a nice encounter you had with a co-worker.
VARSHA : Currently I am working on an outsourced project within a small team of four. There is myself, a UX developer, a project manager and a junior developer. I am currently mentoring the junior which is hugely rewarding work. The entire team is friendly, helpful and supportive! And always ready to take on any challenge! I love working with them!
If a career at Anaeko sounds like the perfect fit for you, or someone you know! View our current vacancies HERE.
Topics: Open Data, job, careers, opportunity, ux