Here is a list of 7 TED talks you have to watch about behaviour, data analytics, predictive analytics, data visualization, big data, insights, open data, international aid and open source government.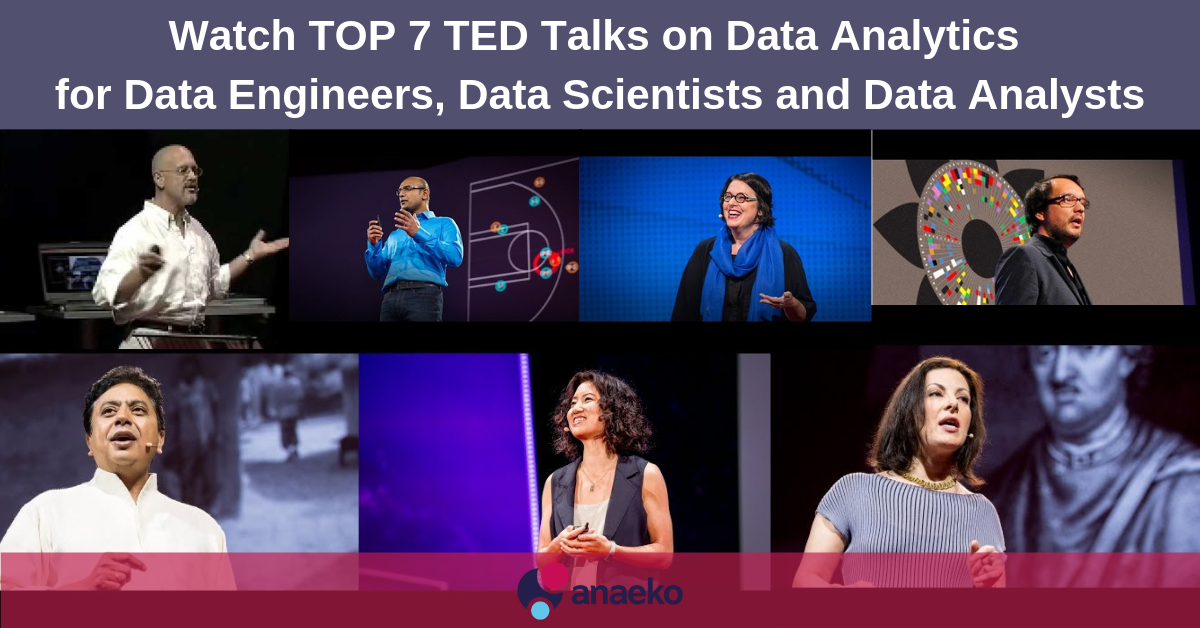 Some inspiration and interesting examples around improving data flows and using data optimisation, machine learning, data discovery and artificial intelligence for better technology and services for people.
1. Why we make bad decisions | Dan Gilbert
Dan Gilbert presents research and data from his exploration of happiness -- sharing some surprising tests and experiments that you can also try on yourself. Watch through to the end for a sparkling Q&A with some familiar TED faces.
2. The Math Behind Basketball's Wildest Moves | Rajiv Maheswaran | TED Talks
Basketball is a fast-moving game of improvisation, contact and, ahem, spatio-temporal pattern recognition. Rajiv Maheswaran and his colleagues are analyzing the movements behind the key plays of the game, to help coaches and players combine intuition with new data. Bonus: What they're learning could help us understand how humans move everywhere.
David McCandless turns complex data sets, like worldwide military spending, media buzz, and Facebook status updates, into beautiful, simple diagrams that tease out unseen patterns and connections. Good design, he suggests, is the best way to navigate information glut -- and it may just change the way we see the world.
4. Susan Etlinger: What do we do with all this big data?
Does a set of data make you feel more comfortable? More successful? Then your interpretation of it is likely wrong. In a surprisingly moving talk, Susan Etlinger explains why, as we receive more and more data, we need to deepen our critical thinking skills. Because it's hard to move beyond counting things to really understanding them.

5. The human insights missing from big data | Tricia Wang
Why do so many companies make bad decisions, even with access to unprecedented amounts of data? With stories from Nokia to Netflix to the oracles of ancient Greece, Tricia Wang demystifies big data and identifies its pitfalls, suggesting that we focus instead on "thick data" -- precious, unquantifiable insights from actual people -- to make the right business decisions and thrive in the unknown.
6. Sanjay Pradhan: How open data is changing international aid
How do we make sure that development and aid money actually goes to the people who most need it? Sanjay Pradhan of the World Bank Institute lays out three guidelines to help relief efforts make the most impact -- while curbing corruption. One key: connecting the players who are working to change broken systems with the data they need.
7. Beth Noveck: Demand a more open-source government
What can governments learn from the open-data revolution? In this stirring talk, Beth Noveck, the former deputy CTO at the White House, shares a vision of practical openness -- connecting bureaucracies to citizens, sharing data, creating a truly participatory democracy.
We develop predictive analytics dashboards that inform policy decision-makers and help organisations use prescriptive analytics to drive business benefit from intelligent recommendation engines and reduce the dependency on key decision makers.
Topics: Data Analytics, Open Data, Government, Big Data, Data Visualization, Data Optimisation