Anaeko is Your Digital Services Partner for Integrated Analytics, Hybrid Cloud Integration, Storage Optimisation, and Multi Cloud DevOps for Improving Public Services. We help organisations adopt cloud computing.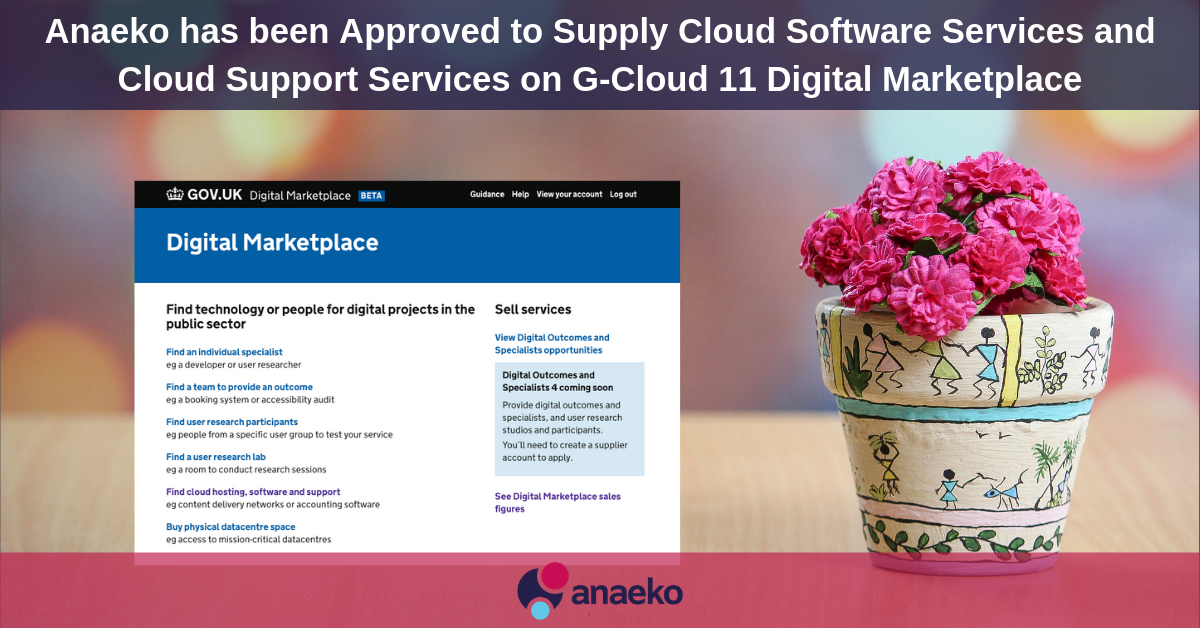 Today, on July 2 2019, Anaeko has been Approved to Supply Cloud Services on G-Cloud 11 on the Government Digital Marketplace.
We are now able to supply services within the Cloud Software Category and on the Cloud Support Category on the Government Digital Marketplace.
Anaeko G-Cloud 11 Services are Cloud Software Services and Cloud Support Services.
What is G-Cloud
G-Cloud is a UK Government framework which enables the public sector to procure cloud and other services via the Digital Marketplace. The Digital Marketplace helps the public sector find cloud technology and specialist services for digital projects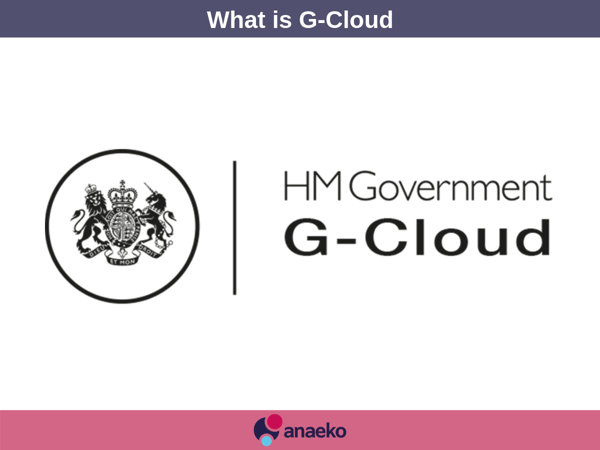 Buying services through the G-Cloud framework is faster and cheaper than entering into individual procurement contracts. Public sector organisations can use the Digital Marketplace to access services from the framework.
The G-Cloud framework is an agreement between the government and suppliers who provide cloud-based services.

G-Cloud services are divided into 3 categories, or 'lots':

cloud hosting, for example content delivery networks or load balancing services
cloud software, for example accounting tools or customer service management software
cloud support, for example migration services or ongoing support
ServiceClarity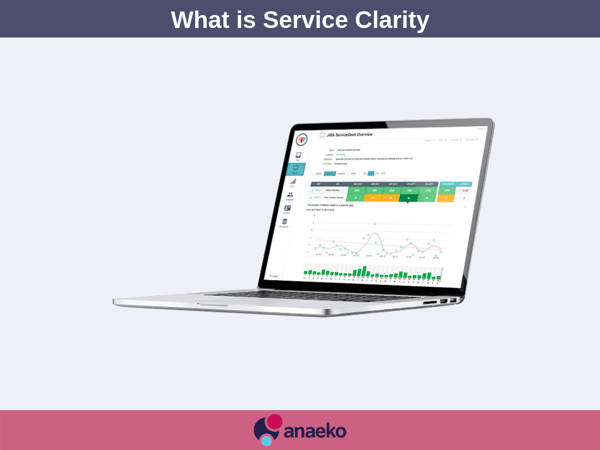 ServiceClarity is a KPI Reporting platform for Agile Delivery Managers. ServiceClarity automates the reporting of best-practice KPIs across Lean-Agile, SAFe (Scaled Agile Framework) and DevOps processes. ServiceClarity "Measures the KPIs that Matter" to Agile Delivery Managers, in order to measure progress, communicate value and deliver continual service improvement.
Our Project Management Service provides specialists to support the end-to-end delivery of cloud-native applications. Project Management role includes agile planning, iterative and incremental delivery of requirements, define, support and educate teams about scrum practices. The role leverages Professional SCRM Master and Prince2 skills to lead an agile SCRUM team.
We provide specialist test teams tailored to our clients' needs. We specialise in automating functional, performance, security, integrity and load tests. Our test services span user interface (UI), API, and Component testing. We leverage best-of-breed cloud technologies and DevOps practices to support continuous integration, regression and release control.
Anaeko leverages its experience and knowledge to offer dedicated development, test and operations teams for our clients. We work across clouds, programming languages, and technologies using agile methodology and proven frameworks We augment the existing team as well as deliver end-to-end cloud native digital services projects.
Anaeko provides flexible analytics services tailored to organisational needs. For organisations starting with analytics, we provide Data Assessments, maximising current infrastructure and resulting in Proof of Value analytical reports. For established projects, we build scalable information architectures and optimise these for volume, variety and veracity at a truly National scale.
Anaeko builds dedicated cloud native software development, test and operations teams for our clients. We work across clouds, programming languages, and technologies but apply the same DevOps best practice We accelerate the adoption of Agile DevOps for in house teams, augment existing teams, or form completely outsourced extensions
The Cloud Storage assessment is a 4 week audit that assesses which of your applications and workloads can best take advantage of cloud storage benefits, defines a prioritised cloud storage adoption roadmap and identifies and quick win projects in your priority area.
Anaeko provides a full suite of cloud storage Audits, Integrations & Migrations. We work with all cloud storage platforms including AWS, IBM Cloud and Azure along with all on-premise storage vendors and private cloud providers to help organisations in highly regulated industries take advantage of the benefits of Cloud Storage
Data Analysis is an essential requirement for all organisations, though accessing and understanding your data can present an insurmountable first hurdle. Our Data Assessment is designed to get organisations started on discovering, understanding and using their Data to its full potential, in a quick engagement.
Our data management services provides support in information management, information strategy, data architecture, data migration, data by designing and building enterprise class data platforms to facilitate business decisions.
Our Data Management Services enable Data Science in large, highly regulated organisations. We allow Data Scientists to focus on Data Analysis through the implementation of intelligent automation of Data Collection, Cleansing, Integrating and Presentation. We do this in the most scalable environments to allow truly National scale.
Anaeko provides a full suite of cloud integration, migration and test services. We work across all public and private cloud platforms including AWS, IBM Cloud, Microsoft Azure and Google Cloud Platform and utilise Open Source and Open Standard Integration Technologies. This ensures the most portable, modular and future-proof solutions.
Our Quality Analyst service provides a specialist analyst to ensure quality delivery of an agile project. QA role includes test project management, test strategy definition and contributing to agile planning.
Our Test Centre of Excellence provides a specialist team of Test Project Manager, automation testers and manual testers to deliver a quality application. Our testing team leverage our knowledge and experience gained from the projects delivered across different industries and apply to the benefit of the buyer.
Our Test Management Service provides a specialist Test Manager to support end-to-end testing for software application development. The role leverages ISEB and ISTQB software testing, Professional SCRUM Master (PSM) and Prince 2 skills to lead a cross-functional agile SCRUM team in the testing of end-to-end systems.
User Centred Designer

Our User-Centred design service provides a specialist designer to deliver intuitive user centred design by using previous experience in gathering requirements, user expectations, and user designing.

Hybrid Cloud Integrator
Anaeko is a Hybrid Cloud Integrator specializing in the development and test of hybrid cloud products and solutions. We help organizations adopt cloud computing through the Agile Integration of Cloud Services and Enterprise Applications.
This Article Contains public sector information licensed under the Open Government Licence v3.0
Topics: Government, Cloud services, gcloud, gds, cloud software, cloud support