Data analytics within healthcare has the potential to transform patient care and the health sector in many ways. The analysis of data can help gain insights and support decision-making by collecting data from a variety of areas like medical costs, clinical data, patient behaviour and pharmaceuticals. Because healthcare data is so complex and can be difficult to process there are some barriers but here are 4 benefits and a look at some examples of how data analytics is being used.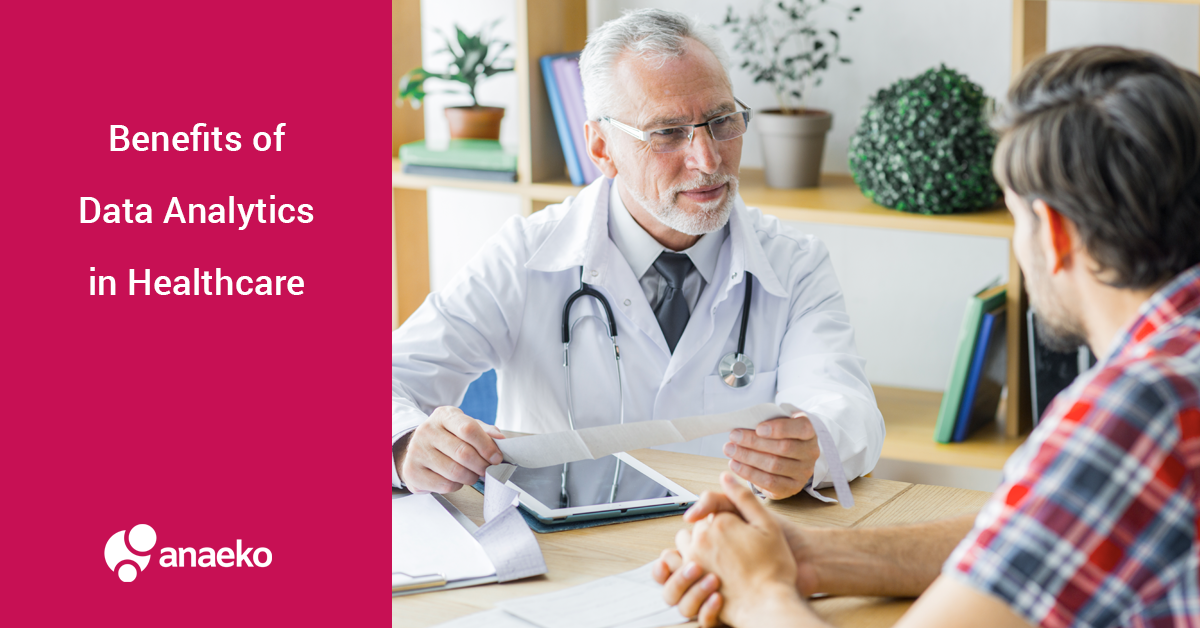 Personalised patient care
Integrated care is a patient-centred model that aims to bring communication and co-ordination between patients, healthcare professional, and collaboration of care delivery even between separate organisations. With connected health, correct data processing and analytics, medical professionals along a clinical pathway could follow and support patients with personalised care.
"patients whose doctors provided more patient-centric care by discussing their concerns, analyzing their conditions in light of their broader health record and collaborating to find solutions, had 51.3 percent lower annual healthcare costs than those without." (Journal of the American Board of Family Medicine)
Data analytics helps health providers identify patterns and red flags that are not easily caught by manual processes.
Some healthcare organisations are using big data to monitor hospital admissions in real-time, creating informative dashboards for medical professionals and pairing patients with the appropriate specialists (from Modern Healthcare).
Operational Efficiency
Across all industries operational efficiency through lean practices and data analytics have been adopted to become more streamline and cost-effective. For healthcare service providers predictive analytics and real-time data can help to understand admission and discharge rates to analyse staff efficiency for different numbers of patients at one time. Data analysis could influence healthcare to decrease waiting times, streamline emergency departments, or improve accuracy in administration departments.
A good example of data analysis and turning big data into dynamic reports, KPI reporting and dashboards, improving patient outcomes and reducing costs is the King Faisal Specialist Hospital and Research Centre, Jeddah, Saudi Arabia. Demah Al Shathri, Manager, Enterprise Reporting, comments:
"As we approach the pre-defined threshold for a particular measure—for example, waiting time in the ER department—the system automatically issues an alert, and the relevant decision-maker can drill down through the numbers to see where the problem lies. If we actually hit or exceed the threshold, there are separate escalated alerts for those events."
By using information rich dashboards and reports the hospital decision makers can quickly decide on the best approach in any scenario. Read more on this case study here
Discovering the right medicine to cure diseases
By analysing large sets of data through machine learning and AI, drug discovering can become more accurate to treat individual patients. Data analysis can provide a view of correlations and hidden patterns within huge data sets like clinical trials and medical records. Predictive analytics could be used to test the effectiveness of a specific drug at treating a disease or illness.
An interesting example from Qrativ looks at combining "AI and Big Data to discover new purposes for drug treatments". Read more on the case study here
"The AI platform triangulates easily between the scientific literature concerning existing drugs and other large sources information, like genome sequencing, in order to predict the efficiency of a drug in a data driven manner."
Maintenance of Equipment
Healthcare service providers operate with a huge physical infrastructure and all machines must work effectively all the time. The Internet of Things could influence the healthcare sector offering a range of equipment to transmit data to central dashboards and reports to monitor status, performance, usage and faults with equipment.
A report from Harbor Research looks at "Machine Data Analytics Drives Innovation in Healthcare Market" and how todays' tools are only scratching the surface of the value of complex machine data.
With these benefits, and many more, opportunities to improve patient care and reduce costs within the healthcare industry are growing but with some barriers like siloed working, problematic data conventions, sensitive data and patient preferences data analytics has yet to be fully utilised and relies on collaboration and information architecture for the entire industry to benefit.
Data Analytics and Insights
The collection of data is crucial to data analysis, predictions, AI and Machine Learning. Most departments are sitting on a pool of data that can benefit from analytics and automated processes.
Could Anaeko assist with your project? Working with the data that you have, our Data Engineering experts will perform a full quality assessment, data alignment, cleansing and modelling to build a complete picture of your data landscape. Generating reports on the potential as well as the gaps in your data and recommendations on how to answer your organisations' most pressing questions.

Topics: Data Analytics, Data Integration, Predictive analytics, Healthcare, prediction