About Belfast International Homecoming 2023
Belfast Homecoming celebrates a city which has seen — and survived — its fair share of challenges and emerged resolute, resilient and ready to rock.
At Homecoming 2023 they will showcase ebullient, emerging communities transforming the Belfast demographic, culinary and community landscape.
Global visitors will hear from civic leaders about their ambitious vision for the future and meet the peace-makers, bridge-builders and change-makers building a better Belfast.
A special focus will be on the business leaders and entrepreneurs driving forward the new city; all of them inspirational individuals keen to partner with you to source investment, advice and contracts.
Belfast International Homecoming will take place at Titanic Hotel, Belfast / The Belfast Harbour Commissioners on 28 September 2023.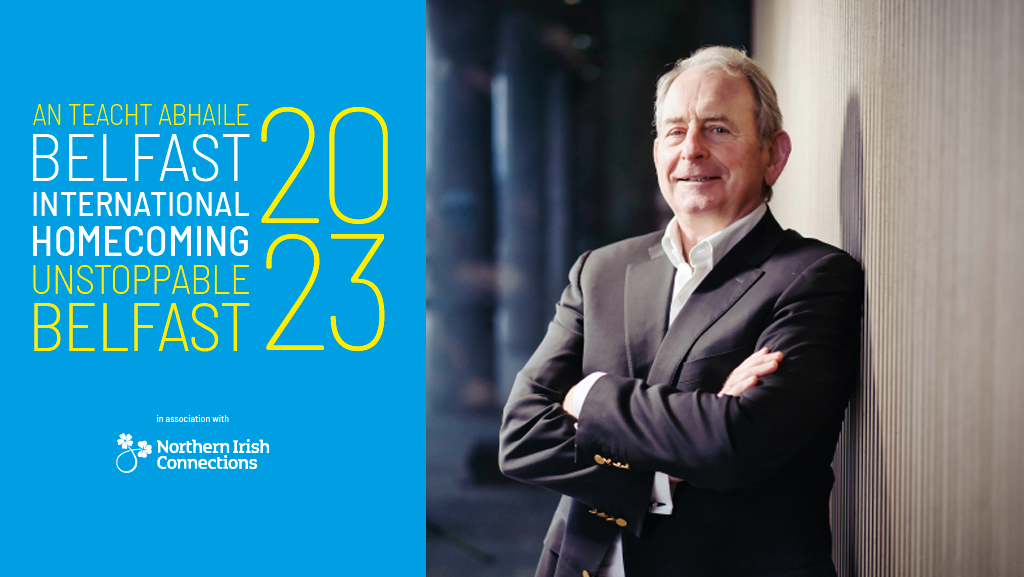 Denis Murphy, CEO Anaeko, delighted to be Honorary Chair
I am delighted to be appointed as one of the Honorary Chairs for the Belfast International Homecoming and would like to extend a heartfelt and warm welcome to the Northern Ireland diaspora and supporters of Northern Ireland as they gather in Belfast for the much-anticipated Belfast International Homecoming. Belfast's rich history and dynamic present are enhanced by your presence, as you contribute to the diverse and inclusive spirit that defines our community.
Over the last few decades Belfast has overcome numerous challenges to emerge as an outstanding example of positive transformation and progress. In recent years, Belfast has experienced a remarkable transformation, driven in part by a wave of inward migration. This influx of new talent and fresh perspectives has infused the city with vitality and innovation, propelling it into a new era of growth and renewal.
At the heart of Belfast's resurgence are its visionary business leaders and entrepreneurs. These individuals have embraced innovation, harnessed the city's potential, and are driving it forward on the global stage. Belfast has rapidly emerged as a thriving tech hub with a strong emphasis on both cybersecurity and software development. This city has successfully harnessed its strategic location, skilled workforce, and robust infrastructure to become a magnet for technological innovation. With a particular focus on cyber defence and software advancement, Belfast has cultivated a diverse ecosystem that encompasses start-ups, established tech companies, research institutions, and educational centres, all working in tandem to drive the evolution of digital security and software solutions. This collaborative environment, bolstered by proactive government support and foreign direct investment, has led to the growth of a vibrant community of experts and professionals in cybersecurity and software engineering.
About Anaeko
On the back of this wave, Anaeko has established an impressive track record of delivering innovation for North American cloud software pioneers, including industry giants like IBM and TidalScale. With a commitment to cutting-edge innovation and unwavering dedication to quality, Anaeko has consistently delivered solutions that have pushed the boundaries of cloud technology. Collaborating with these leading innovators, Anaeko has contributed to the creation of advanced software solutions that optimise cloud infrastructure, enhance scalability, and elevate overall performance. Through a combination of technical expertise, collaborative spirit, and a deep understanding of the intricacies of cloud computing, Anaeko has solidified its reputation as a trusted partner in driving forward the evolution of cloud software for some of the most influential companies in North America and beyond.
Join the Celebrations
The Belfast Homecoming 2023 promises to be an excellent event that brings together leaders, thinkers, and change-makers from around the globe to help accelerate this growth and renewal. Civic leaders will share their ambitious visions for the future, offering insights into the city's ongoing transformation. Attendees will have the opportunity to meet the peace-makers and bridge-builders and innovators who have worked tirelessly to build a stronger, more inclusive Belfast—a testament to the power of collaboration.
Please join in the celebration https://aisling-events.com/events/belfast-international-homecoming-2023/
Topics: Denis Murphy, Events, Belfast, Emerging, Technology, Innovation, Digital Transformation