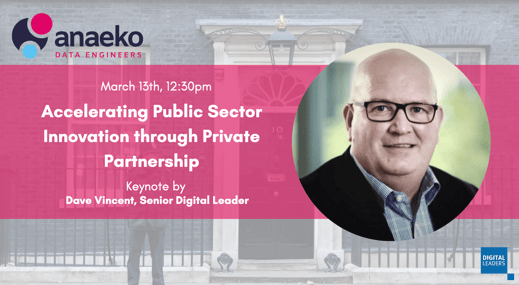 Data Engineering specialists Anaeko are on a mission to deliver societal, environmental, and economic benefit through timely access to quality data. Anaeko achieves this through innovative Public Private partnership.
As Digital Leaders ambassadors for Northern Ireland, Anaeko brings together leaders from across the region to explore the importance of Public Private Partnership to Northern Ireland
This online event helps kick-off Public Sector Innovation Week, a programme of online and in-person thought-leadership events across the UK.
We will open with a keynote speech from Department of Finance's Senior Digital Leader, Dave Vincent, followed by an interactive discussion with panel comprised of Global System Integrators, Industry Analysts, Business Cluster Advisors and innovative SMEs including Colm Hayden, CTO Anaeko and Conor O'Donnell from DAERA and Ian Savage, CEO & Founder of SureCert.
Attendees should expect thought-provoking insights and strong opinions that challenge the status quo, along with the networking opportunity to speak with a packed audience of movers and shakers across the UK.
What is Public Sector Innovation Week
Public Sector Insight Week is the online event where public, private and third sector leaders present their ideas and showcase the very best digital solutions. The Week is about government and businesses helping each other use digital more effectively.
The Week offers you 100 free talks by leading thinkers on all aspect of transforming Public Services to help you find out: What works? How to? And where can we get advice? This year, the summit will feature two in-person events: the 5th Public Sector Innovation Conference; and the 7th Impact Awards, celebrating UK tech for good.
Meet Our Contributors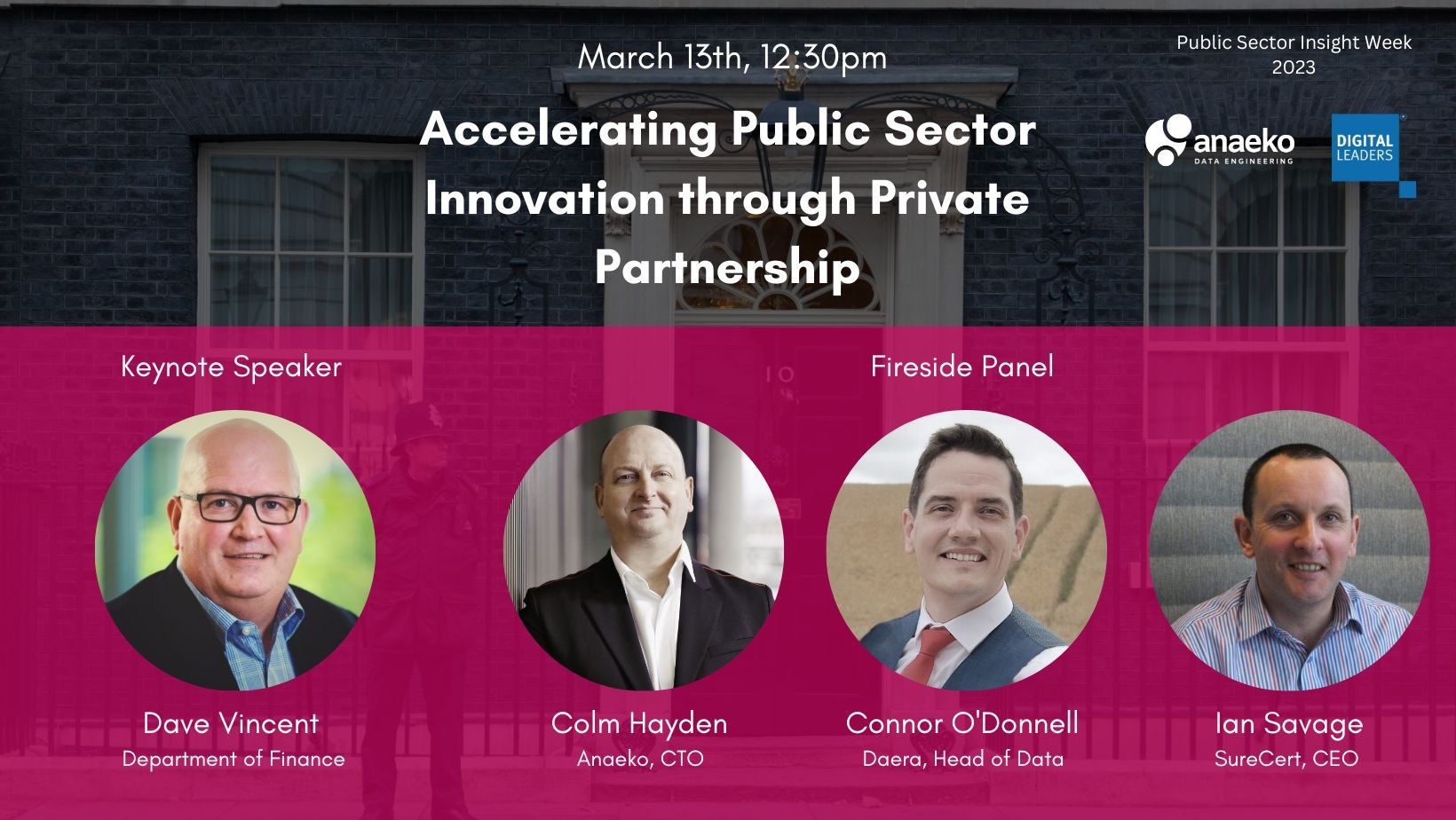 Dave Vincent ( Senior Digital Leader, Department of Finance)
Dave Vincent is a highly experienced hands on inspirational and energetic technology leader with an entrepreneurial edge, currently working as Senior Digital Leader with the Department of Finance and DDaT workstream lead on Integr8 programme. He has 25 years of strategy, delivery and leadership across technology, communications and major change programmes. A digital visionary and planner who sets the pace and maintains velocity, acts with integrity and creativity, and designs the compelling vision which enables teams to learn and deliver to their full potential.

Dave has an exceptional track record delivering major transformation programmes and world-class digital products for both private and public sectors. Operates at board and operational levels, with outstanding stakeholder management skills and business acumen. Commands respect and loyalty from peers and clients who consistently entrust him with their business challenges, relying on him to translate complex business issues and requirements into commercially and technically compelling propositions.
Ian Savage ( CEO & Founder, SureCert)
Ian Savage is the Founder and CEO of SureCert. SureCert is a background checking and digital identity business, utilising AI to automate online identity verification for largely public sector clients, such as the Northern Ireland Government.
Conor O'Donnell ( Head of Data and Geographic Information Systems ,DAERA)
Conor is a technology leader with responsibility for providing strategic, managerial, and technical oversight across significant change programmes in the public sector. With a breadth of experience in all aspects of project delivery and digital transformation, Conor has a proven track record of leadership in senior IT roles, as an Enterprise Architect, Senior Application Architect and currently working as Head of Data and Geographic Information Systems for the Department for Agriculture, Environment and Rural Affairs (DAERA). Conor's recent work for the department is focused on identifying opportunities and delivering innovative technological approaches that place data at the heart of all decision-making.
Colm Hayden ( CTO, Anaeko Data Engineering)
Colm is an experienced, entrepreneurial and commercially focussed technical leader. Over the past two decades he has been CTO to Cloud Software and Services companies, Technical Director to industry networks, Technical Lead on Open Standards, University Course Director and Business Network Founder.

Colm has scoped and delivered 400 data optimisation projects, designed 40 cloud platforms, and brought to market over 100 web and mobile applications

Colm has delivered services for IBM, Microsoft, Vodafone, Fujitsu, Verint, Epic Games, BT and SUN Microsystems amongst others. In partnership with global service providers, and through direct engagements, Colm has optimised data in Government, Health & Life Sciences, Media, Finance and Telecoms.
Event Launches 13th March at 12:30pm | Register Now
https://publicsectorinsight.digileaders.com/talks/accelerating-public-sector-innovation-through-private-partnership/