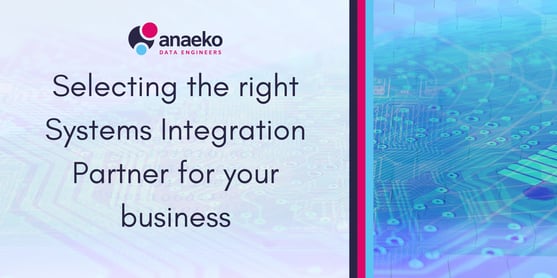 Systems Integration Partners are the reliable, responsible unsung heroes of the IT industry. If your Systems Integration Partner is successful in the services they provide to your business your employees, customers and partners should have a seamless computing experience.
As many businesses have become more reliant on technology to enable their daily operations, selection of a successful Systems Integration Partner is crucial. We have all seen the headlines associated with major IT outages - customers not able to access their bank accounts, people powerless to pay their bills, or have the ability to interact with businesses they want to purchase products or services from.
In addition to the headline grabbling IT outages that occur due to poor systems integration many organisations are being held back in terms of their staff productivity, ability to launch new products / services to market and manage their daily operations effectively due to an over-reliance on legacy systems, software and processes. This leaves them at a disadvantage in the competitive markets they operate in.
What is Systems Integration?
By definition a System's Integrator is a person or company that specialises in bringing together component subsystems into a whole and ensuring that those subsidies function together, a practice known as system integration.
At Anaeko Data Engineering we believe Systems Integration refers to the configuration and integration of systems into a functional solution. This can typically involve the following systems: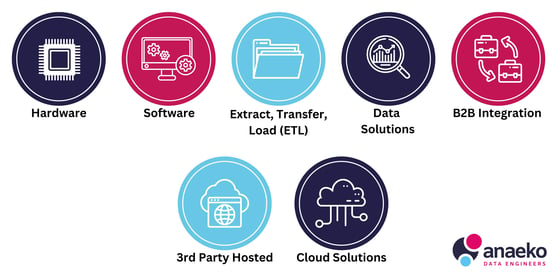 The integrated solution is expected to deliver value through:
Connecting systems to drive automation and a true end-to-end design.
By having connected systems which are properly understood by IT and the business, data managed on these systems can be used to help improve how goods and services are delivered, and enable IT teams to understand how co-dependent systems interact and perform.
The delivery of Systems Integration programmes can be completed by a company's internal delivery teams, outsourced to a specialist external vendor or a combination of both.
Ultimately though the organisation responsible for the delivery of such a programme of work is the Systems Integrator.
So what should your organisation be looking for in a Systems Integration Partner?
Now we have identified who Systems Integrators are and what value they can bring to your business, it is important we recognise what IT teams should be looking for in their chosen System Integrator partner.
At Anaeko we believe a good Systems Integration partner should display the following characteristics:
Expert domain knowledge in all major applications, operating systems, infrastructure and cloud based technologies. This can be industry specific.
Access to highly skilled IT professionals with Integration Pattern Knowledge. The experts they employ should understand the standard and bespoke integration building blocks that are commonly used.
Data Specialists to ensure data is managed in line with regulatory requirements i.e. GDPR
Consultants who can analyse your existing Business Processes and transform them into serving your customers better
Technical Specialists who can seamlessly migrate and integrate your estate with 3rd party hosted systems
Strategists to help you identify and develop the right systems, processes and skills required to deliver value adding business and technical roadmaps
Programme Management skills to build your release schedule and optimise the change lifecycle. Additionally they should have a track record in the successful delivery of programmes of change and an effective Programme Management Office
Access to the latest testing tools and methodologies
Commercial awareness to manage your suppliers